HILL COLLEGE EVENSONG AT DURHAM CATHEDRAL, DURHAM UNIVERSITY (November 2018)
Hill College Evensong - 26th November 2018 - Preces - Smi.mp3
Hill College Evensong - 26th November 2018 - Responses - Smith.mp3
Hill College Evensong - 26th November 2018 - Organ Voluntary.mp3
RESIDENCY AT ST. CUTHBERT'S SOCIETY, DURHAM UNIVERSITY (2018)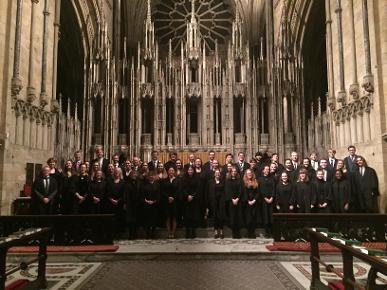 RECORDINGS 2017
November 2017: A live audio recording of Beethoven - Symphony No.9 where I was Chorusmaster for the combined choirs or Parenthesis, Reading & the London College of Music, with Windsor & Maidenhead Symphony Orchestra at Eton College Hall, Eton.
Parenthesis Choir, Lon. Col. of Music & WMSO - Final Movement - Beethoven - Choral Symphony - 25.11.18.mp3
June 2016: A live video recording of Handel's 'Figlia mia' and accompanying recitatives and arioso from the end of Tamerlano. Bajazet is at his wits end and increasingly becomes crazed before coming close to his inevitable death.
February 2015: A live recording of exceprts from the production of Les Mamelles de Tirésias by Francis Poulenc. I opened the production with a staged rendition of Bleuet and Act II Sc ii includes me playing 'Le journaliste parisien'.
Act II Sc ii - Le journaliste parisien.mp3
November 2014: Many thanks to Paul Plummer (Piano) and Tim Cooper (Recording engineer) and for his help with these recordings... click on the link below...
RECENT PROJECTS & CONCERTS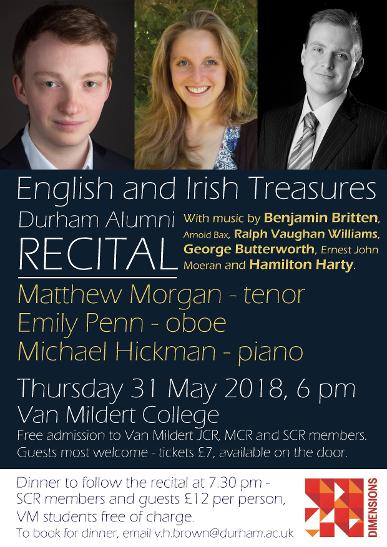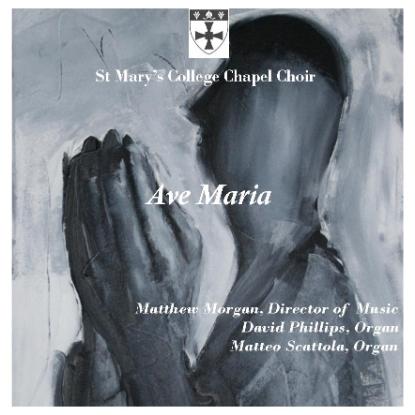 Ave Maria
Format: C.D. (Available from St. Mary's College, Durham)
Recorded: April, 2011
Released: February, 2012
Artist(s): The Chapel Choir, St. Mary's College, Durham
Director of Music: Matthew Thomas Morgan
Organists: David Phillips and Matteo Scattola
Produced by: Bandwagon
A C.D. of Choral Favourites which have been in the St. Mary's College Choir Repertory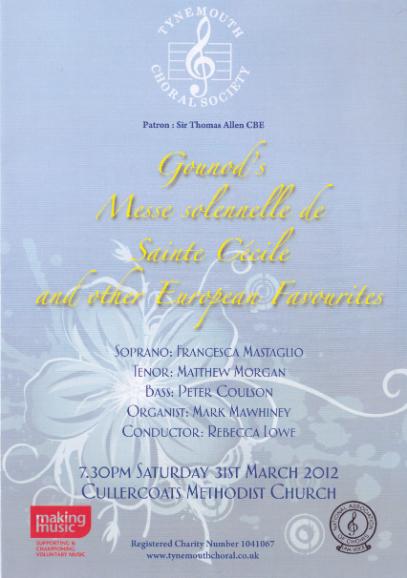 Gounod - Messe solennelle de Sainte Cécile, Cullercoats
Format: Concert Poster: Tynemouth Choral Society, Cullercoats Methodist Church, Cullercoats, March 2012
Programme: Gounod: Messe solennelle de Sainte Cécile
Artist(s): Tynemouth Choral Society
Soprano: Francesca Mastaglio
Tenor: Matthew Thomas Morgan
Bass: Peter Coulson
Conductor: Rebecca Lowe
Mozart - Mass in C Minor, Durham
Format: Concert Poster: Durham University Choral Society, Durham Cathedral, Durham, March 2012
Programme: Mozart: Mass in C Minor & Handel: Coronation Anthems
Artist(s): Durham University Choral Society
Soprano: Jessica Holmes
Mezzo-Soprano: Rebecca Lancelot
Tenor: Matthew Thomas Morgan
Bass: Robin Crinson
Conductor: Canon James Lancelot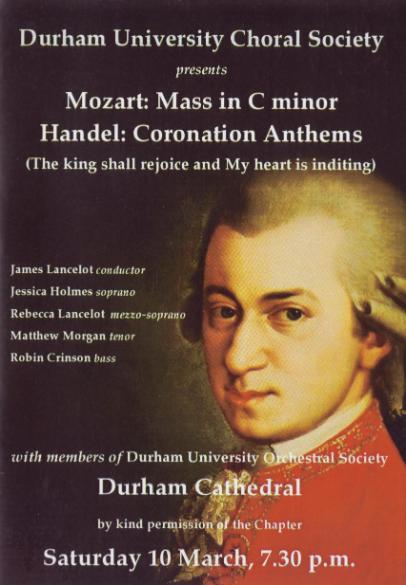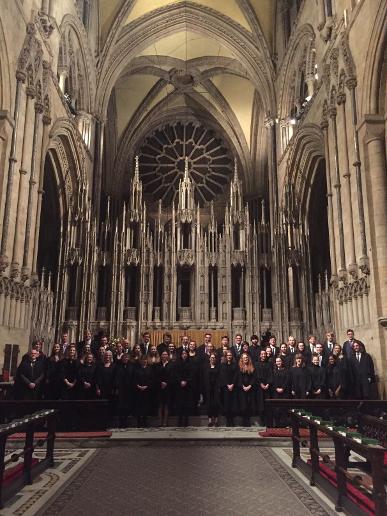 Below are some examples of reviews & videos from projects I have been involved in.
Lully - Armide, Ensemble OrQuestra, Arcola Theatre, London, August 2017
Vivaldi - Gloria & Rutter - Psalmfest, Parenthesis Choir, The Oracle, Reading,February 2017
Il Ritorno d'Ulisse in Patria, Royal Conservatoire of Scotland, November 2013
Directed by Mark Hathaway, everything about this presentation throws intriguing focus on the characters – Andreas Backlund's bold and interesting Ulisse, Hazel McBain's charismatic Minerva, Arshak Kuzikyan's stentorian Nettuno, Eirlys Myfanwy Davies' molten, golden-hued Penelope, and the striking tenor duo of Matthew Morgan (Eumete) and Luperci de Sousa (Telemaco), to name but a few in this sizeable cast.
Kenneth Walton, The Scotsman, 4th November 2013
DUMS@TheSage, Gatehead (February 2011)
Conductor Edward Moore and choirmaster Matthew Morgan have put together an incredibly ambitious concert (and) are joined by four professional soloists to present this very British programme that promises to offer a tour-de-force of 20th century Neo-romanticism
Daniel Jefferies, Palatinate, 21st February 2011
Messiah, Durham Singers, November 2010
21-year-old Durham student Matthew Morgan carried the tenor line with style,… another triumph for this popular and talented bunch.
Mark Tallentire, The Northern Echo, 9th November 2010
Durham 20: graduates destined for success, June 2011
Criteria: With Durham 20, Palati­nate brings you a selection of this year's most promising graduates in various fields, as nominated by their fellow students. All of the students featured on these pages have shown huge potential while at Durham and we wish them the best of luck as they seek to reach the pinnacle of their respec­tive careers.
Matthew is an enormously accomplished musician and has spent three years as a choral scholar in the Cathe­dral choir. He has also performed as a soloist on multiple occasions, in con­certs both in and out of the cathedral. Next year, Matthew will be taking up a place at the prestigious Royal Acad­emy of Music in London, and should most certainly be considered as 'one to watch' over the coming years.
Palatinate, 21st June 2011